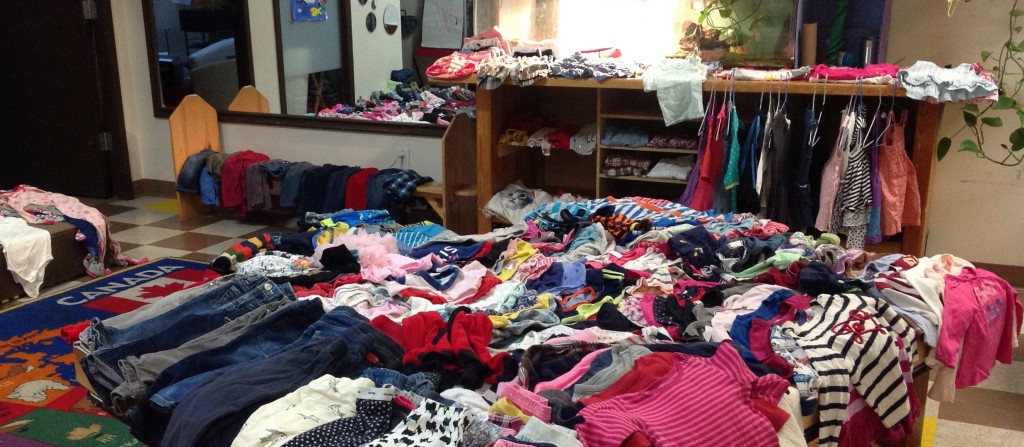 On Oct. 22, 2017 Buddings Daycare hosted the semi-annual kids' clothing swap and sale, to (1) bring new families to the centre, (2) redistribute a mountain of too-small kids' clothes to people who need it, and (3) promote our programs and Instagram – which we did. We were shooting for a triple-win, and we got even more!
Clothing Swap 2017 – by the numbers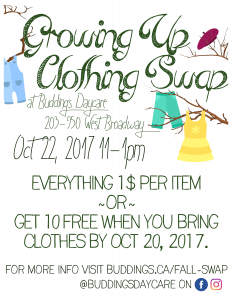 ~1,000 pieces of unneeded children's clothes donated – sorted by our staff
~500 items went to new homes, in under 2 hours
$240 raised for our charity partner Hives for Humanity*, even at $1/item, with discounts for donations
37 families attending, socializing, sipping cider, and sharing the day
6 participants in our Instagram outfit contest, generating hundreds of "likes", and engagement
3 Buddings members brought friends and collected 3-hour referral bonuses
2 new-to-Buddings families found the event on craigslist and Facebook, and came to check it out
1 of whom came back on Nov. 4 for our preschool program open house and signed up!
Jackpot! A new member! That's what it's all about!
But that is not all, friends, that is not all…
We still had a LOT of clothes leftover, and thanks to Jade's little Suzuki Sidekick, we were able to share them out to even more worthy causes: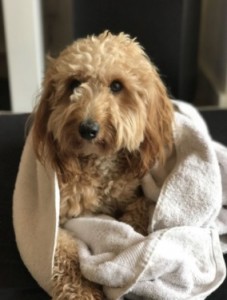 ~ The Pregnancy Crisis Centre accepts used children's clothing, and supports women and children in their most vulnerable times
~ The BCSPCA accepts towels and bedding, including a big box of over 100 clean cotton towels donated by a local fitness club who switched their towel service. It will be used for bedding for homeless puppies and pets.
~ The East Side Family Place took the rest of the kids' stuff, to distribute it to families in the community.
More than just members, we benefit big!
As a daycare, we know a lot of families, and we know their kids grow out of their clothes. Who better than us to host the swap? It's a no-brainer, and everyone thinks it's genius.
Plus we avoid the three big pitfalls of self-promotion, and inspire their opposites:
It's not sleazy, and it generates real interest.
It's not expensive, and it promotes sustainability.
It's not isolated, and it builds long-term relationships.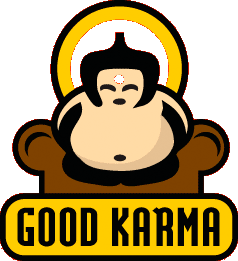 Plus, creativity keeps life interesting, and gives people a reason to talk.
Plus, plus, plus! When you do things for others, the points in your karma bank add up, and good things happen for you.
Whatever your business, there are creative ways to serve your community and customers that make long-lasting impacts on their lives and minds.
And there are other ways.
Try making the triple-win your minimum requirement, and see how quickly it becomes a jumping off point to making the world a better place.