This week, I put out a newsletter called "Things are Happening,"and it really seems to be the case, when it comes to flexible childcare – as an industry, and with interest among families for flexibility.
I'm overwhelmed, and overjoyed, and… #feelingblessed
Last week, it was my birthday.
All the girls at Buddings did a surprise party on Saturday, and the pic on the Storybook Insta actually manages to squeeze all 10 of us in one frame. Florence made a beautiful cake (that I ate for the rest of the week), and we had a never ending vegetarian smorgasbord Chickpea, on Main.
I was flattered and actually, I was completely surprised. The daycare was closed, and we were together for an all-staff "strategic planning off-site meeting" at Storybook (so not totally offsite). I'd been working on the agenda and my report until 4am. I was not thinking about my birthday AT ALL.
The meeting was our second "big picture" session, and reviewing the goals we'd set for ourselves last June was extremely satisfying. We'd blown away our targets new members, we were sitting inside our nearly completed second site, our sustainability initiatives have been making us famous… on social media… sort of… and everyone was excited to share the company vision, because they were part of it.
Last June, we talked about who we are, as a company, and where we come from, in terms of values, so this time, we dove right into where we're going, and how we'll get there.
Sarah said she saw a role for us in advocating for broader definitions when it comes to childcare. We also talked about partnering in mixed-use and high-density developments near transit, and expanding our recruiting and training, so we can maintain our convenience to families, and high-quality service.
You know, "big picture."
Today, the Things are Happening newsletter has updates. Already! (Read it here 

There's a message in my inbox from a family thanking me for writing it. (!!!)
Not that I never get fan mail, but… I don't get very much.
Google My Business sent me three messages about 5 star reviews that were left since 10am, and forwarded from info@buddings, I had this: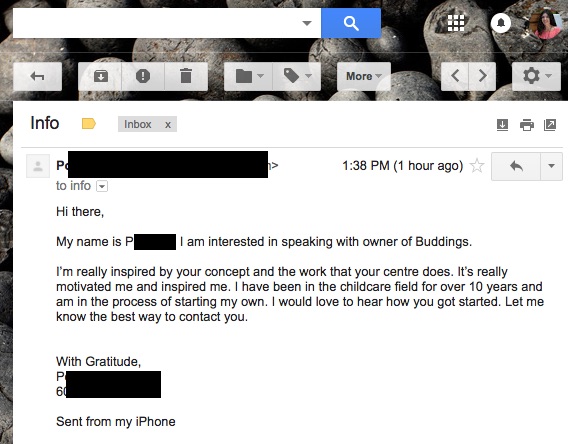 I definitely don't usually get this much fan mail but maybe something is really happening.